NOTICE
Sewing-sanctuary shop in Poundbury, Dorset is closed for a moment, but you can order online as well as usual. We do not know when the shop will be able to reopened and truly sorry for the circumstance. However, during the period, we will offer customers 15% sale. Text blow will guide you to have 15% off sale.
HOW TO USE THE CODE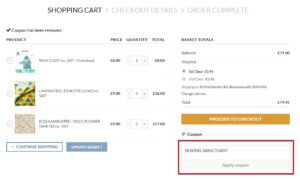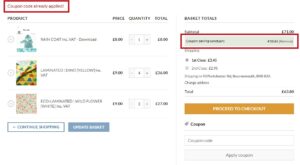 What you need to do is just typing the code SEWING-SANCTUARY in a coupon code box. After that, press the button below the box 'Apply coupon', then you can see reduced price like in second picture above. 
---
10th May 2020 customer notice
The discount cord is expired today due to reopening the shop in Dorchester as well as Bournemouth. We will notice about further information in the other blog post as well as in our social network. 
Thank you for shopping with us.
Sewing-sanctuary