Maximum class size: 10
---
SEWING-SANCTUARY RETREAT 2022
Sewing-Sanctuary brings you their new sewing retreat set in a stylish, contemporary venue in Midsomer Norton (MSN). Spend a week day or long weekend browsing fabrics, learning new techniques and creating a stylish piece of clothing that is completely unique. In between stitches you can indulge in a delicious afternoon tea and chat with like-minded creative sewists. Choose your project from the Sewing-Sanctuary range of sewing patterns and with the help of our expert advice and tuition, create a dress, top or jacket that fits you beautifully even you can make a bag to match.
THE COURSE
Our sewing retreat is suitable for all levels of experience. There is tuition on hand for beginners and intermediate sewists who have perhaps done some small sewing projects or made simple garments in the past. The more experienced will enjoy the communal sewing spirit, the creative atmosphere.  
Either you can bring own your project and fabric or choose from sewing-sanctuary patterns and fabrics. There is a local fabric shop also is near by.
There will be plenty of opportunity for one-on-one help if needed. Help and advice are on hand every step of the way, from choosing your fabric, to cutting your pattern and putting your garment together. You can learn how to make your own bias binding, how to finish an immaculate neckline, fit the perfect zipper or to move a dart where needed. Every project is individual so we can tailor it to your own style and ability level. You can feel confident tackling new techniques knowing that technical help is always on hand.
Choose your project from the Sewing-Sanctuary range of multisize patterns. The designer, Sarah, will be able to teach you the patterns and assist with your choice. Sarah will also help you to customise and pattern hack for our sewists to reflect their creative urges(!) so that each project is truly unique.
THE VENUE
Our workshop is located in Midsomer Norton (MSN) on High Street in a building built in the late 1800s "Italianate Style" with lots of natural light from big windows, there is a sanctuary café on ground floor. Please bring your own sewing machine however if you cannot bring it, please contact us in advance then we can arrange one for you. We are located on the first floor and unfortunately do not have disabled access.
          1 High Street, Midsomer Norton, Radstock, BA3 2LE
THE AREA
Midsomer Norton used to be famous for coal mining area and has developed town. Little stream run through the main high street and free parking all through the town centre. Close to Bath (24 mins with drive, plenty of local bus are available to trip, it's only 10.9 miles), 26 mins to Cheddar Cave (Mendip Hill), 15 mins to Shepton Mallet and within 30 mins, you can visit Longleat Safari park, Glastonbury and Wells (one of the smallest cities in England). There are also great walking and cycling routes for anyone who is thinking of bringing along a non-sewing partner!
ACCOMMODATION
Accommodation is not included in the retreat. However there are plenty of accommodation available within 3 miles. We would be able to accommodate you near future, if you have any questions and more information, please contact us via email, info@sewing-sanctuary.com
---
ITINETARY  FRIDAY – SUNDAY COURSE
2pm Meet at the studio on Friday for coffees, teas and an introduction from Sarah and you can choose your project from the Sewing-Sanctuary range of patterns & fabric or bring your own project.
4pm once you have chosen the project, cut out your paper patterns and be ready to start in the morning. The studio will be open for you until 5pm.
10am Arrive Saturday at the studio to begin with your project. There are plenty of tasty snacks to keep you going, but save yourself for the decadent afternoon-tea-style lunch with sandwiches, cakes and a glass of Prosecco. You are free to stay and sew until 5pm. 
10am The studio opens again on Sunday morning. You can request a demonstration and techniques you would like to learn and get help with your finishing. For those who finish their garment early, they can make a start on their Quick Makes for yourself or gift (e.g. simple bag). Lunch will be served in the studio on Sunday and the afternoon is for you to finish off your sewing.
4pm The studio closes leaving plenty of time for those of you who have come from afar, to travel back home.
---
CLASS DETAIL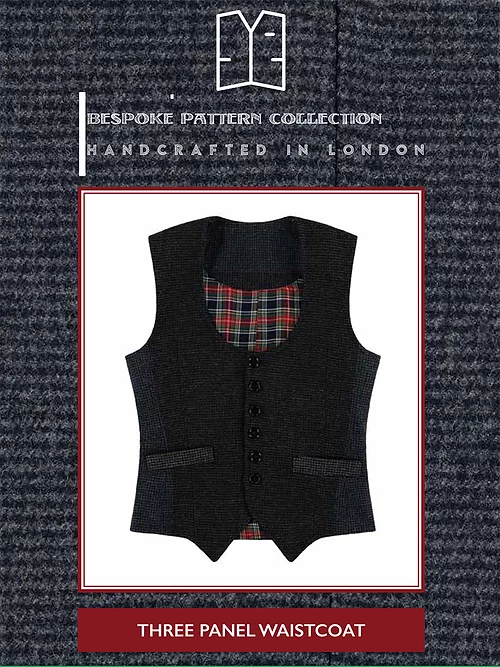 DESIGN: THREE PANEL WALSTCOAT
Great outer garment for daywear or eveningwear. I made mine with medium weight wool for the Autumn, but you can use a variety of fabrics for different seasons and occasion.
YOU WILL LEARN
This is an advanced project allowing you to practice bespoke tailoring techniques with Janaka, who is a founder and the pattern designer at BespokePatternsCollection.London  Who has being sewing since he was young. He will teach you tailoring basic that enable men and women to enter more advance technique for Jackets and Coats effortlessly, with some simple tips and important tools and you will have a great time learning together while covering the followings:
Transferring external and internal patter details to fabric with Screw puncture and tacks.
Adding waistcoat three panels

Making welt pockets to the front with pocket lining

Front darts (cut open and flatten to with prick stitch)

Facing front and back. Facing

Block fusing.

Lining an entire garment

Making button closure. Learning one of the buttonholes by hand
Fabric options you can use for different occasions are Cotton, Denim, Tartan, wool. block fused medium lightweight we will use cotton fabric that you can perches at the Sewing sanctuary before the workshop.
Patterns price is discounted for 30% at the show so please don't buy them online you can buy them at the workshop too.
Please bring with you your sewing kit including fabric scissors and paper scissors. Tissue paper/ dot and cross paper to transfer your pattern pieces, screw puncture, pins and thread, hand needles, Tailors chalk, pens and pencils a notebook take any notes. If you are unable to find any of them, please email Janaka and he will get them order to you.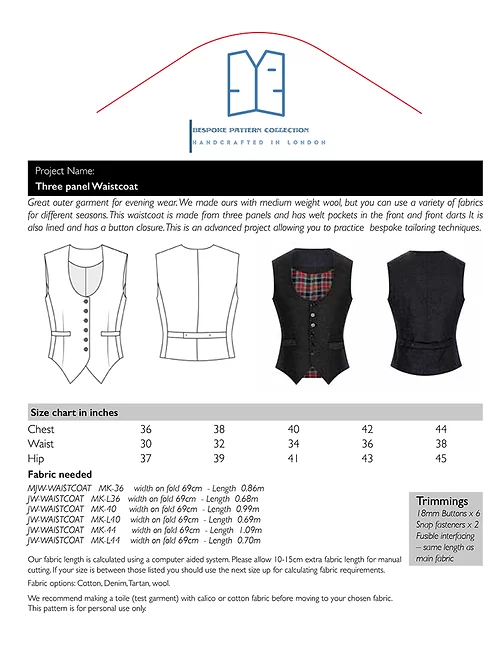 Please see the front and back illustrations as well as the sizes that you can make this to you or a loved one.
You will have the patterns and the written instructions with you to make this again, 5 different sizes.
Our workshop will contain intervals and break for you to have tea and cake. Nice Korean homemade lunch and a G&T at the end of the day.
---
TUTOR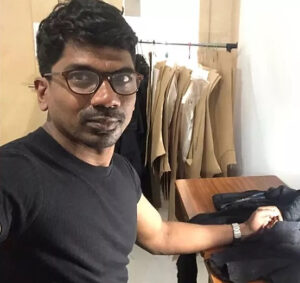 BESPOKE PATTERN COLLECTION LONDON
Janaka, who was train as a fashion designer and a pattern cutter love sharing his knowledge, so he ran workshops at The Knitting & Stitching Show Olympia 2018 and continued to do with The Stitch Festival and The Festival of Quilts because he believed everyone like to design and  what they like to wear. It will be imposable if one can't put your ideas together, and have basic sewing knowledge. this what made him start.
During lockdown he made 8 patterns and instructions with the help of Wendy Gardiner form Isew. so the sewing community will have tailoring projects to hand when they thinking of designing and making something for them or their love one during lockdown.
---
WHAT'S INCLUDED ON THE COURSE
10% off fabric purchases under £100 or £15% off purchases over £100

Help and advice choosing your fabrics

A decadent early afternoon-tea-style lunch with Prosecco

A delicious Korean buffet lunch

Teas, coffees and snacks available every day in the studio

A 30% discount on all other Sewing- Sanctuary patterns

A 10% discount on Sewing-Sanctuary fabrics